We're happy to announce that MoSKito UI v2.1 for iPhone & iPad has been released and is now available for download in AppStore!
MoSKito UI 2.1 is a completely redesigned application. The main new features are:
New Design,
Accumulators,
Configuration by Code,
Improved Stability, Performance and Operation Speed,
Help section.
In this post we're going to discuss the new features in more details.

New Design
In this release we focused on making MoSKito a truly user-friendly application. The principles remain the same, but usability reached an absolutely new level.
To start with, MoSKito now has a brand new user interface; it is cool, up-to-date and intuitive.
Navigation inside MoSKito became quick and convenient. It takes a single tap to shift between Thresholds and Accumulators, view Settings or read Help.
You may now switch between web applications you're monitoring with MoSKito, right from Thresholds and Accumulators tabs.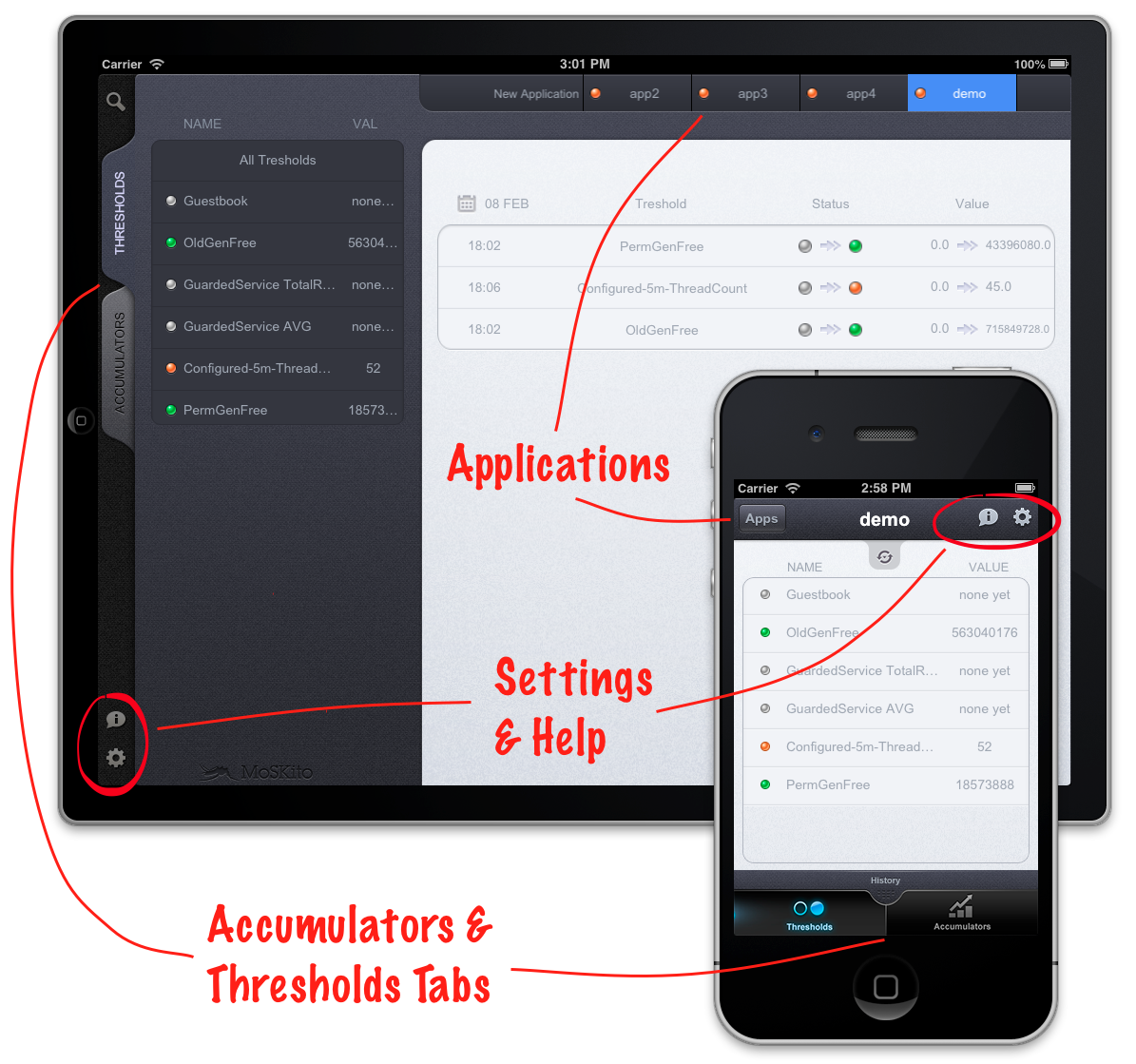 The new improved Settings screen lets you quickly add and manage web applications, as well as update the refreshing interval for added apps.
Thresholds are arranged as a list, showing the most important info: status, threshold name and value. Such a compact layout allows you to stay focused, see all available thresholds and not miss the moment when the indicator changes colour, showing the possible problem.
Still, you may always see the detailed info by tapping the threshold.
Accumulators
Accumulators are set up within your web application to collect and store certain type of performance data, presenting the accumulated info as a chart.
You may view all Accumulators of your application in Accumulators tab. Accumulators, as well as Thresholds, are compactly placed in a list. Tapping an Accumulator on iPhone or dragging it to Display Area on iPad instantly generates a chart, visualising your app's performance within a certain period.
Configuration by Code
By entering a special Configuration Code, you may quickly add your web application for monitoring to MoSKito.
Configuration Codes are issued by Anotheria on special demands, providing an easy way to share common configurations between multiple devices.
Stability, Performance and Operation Speed
MoSKito is now working with greater stability, consuming less memory and quickly processing significantly larger amounts of data.
Help and Video Tutorials
To assist you in mastering MoSKito, we created the Help section inside the app. You may quickly open it for reference in case you have any questions.
Also, there's a possibility to load the Test Configuration, prepared by Anotheria. For that purpose, you just need to type in "demo" in Configuration by Code section of the Settings screen.
Finally, tutorial videos for iPhone and iPad are the simplest way to know MoSKito. In 5 minutes you will have enough info to start using MoSKito with absolute confidence.
The videos guide you through:
making your first steps in the app,
adding and managing applications to be monitored by MoSKito,
using Configuration Codes,
working with Thresholds and Accumulators.
With all the new features, we hope MoSKito will become your ultimate helper in monitoring and managing your web application.